WELCOME

TO THE INSTITUTE OF GEODYNAMICS
In the framework of the Institute, activities are performed by work groups directing their efforts to:
* The study of space-time evolution of the relative displacements between blocks which are in contact in the Vrancea geodynamically active area, with a special concern for the Tulnici-Gresu profile;
* The design of the methodology for an optimal emplacement of sensors able to highlight physical parameters causally linked to stress cumulating/ triggering in geodinamically active areas;
* The study of geomagnetic, gravity and geothermal fields space-time evolution; implications in Geodynamics;
* The study of possibilities to use information provided by the natural variations of the electromagnetic field, for a better knowledge of the tectonic blocks geometry, concerning especially certain geodynamically active areas;
* The study of the connections between volcanism and geodynamically active processes, with a special concern for connections with major tectonic sutures; Nonlinear analysis of geodynamic systems;
* Tectonic hazard studies.
Cu ocazia Zilei Internaţionale pentru Reducerea Riscului Dezastrelor Naturale (13 octombrie) vă prezentăm realizările Departamentului de Electromagnetism şi Dinamica Litosferei – Institutul de Geodinamică al Academiei Române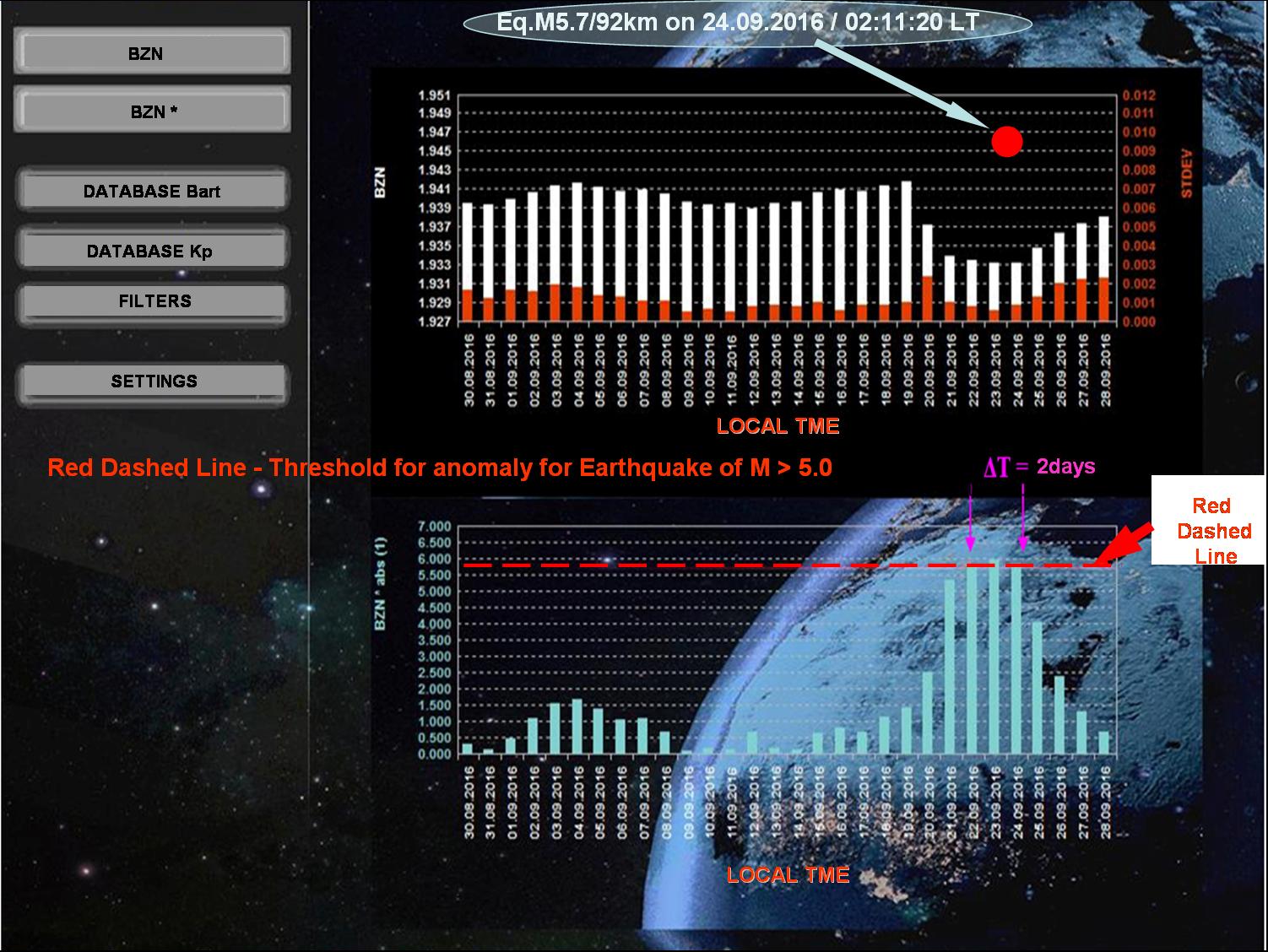 Software de prealertare seismică (versiunea Beta) a instituţiilor abilitate sa intervină în caz de cutremur 
În figura de mai sus se poate observa cum, pentru cutremurul din data de 24 septembrie cu magnitudinea de 5.7 (adancime 92 km), s-a putut emite o alertă încă din data de 22 septembrie, dată la care precursorul seismic geomagnetic a depăşit cu foarte putin limita (linia roşie orizontală din graficul de jos) de la care un cutremur devine important. Pe figură,

 reprezintă intervalul de timp scurs de când se emite alerta şi pană când are loc cutremurul.
News from volcanodiscovery.com